Please select one of the following categories and click on a video to get more information.
Cleaning gases is a special challenge – and BASF masters the gas scrubbing with OASE® extremely well. More than 40 years ago, BASF's success story of the gas scrubbing began. Today, BASF has realized about 400 reference installations for its customers – from North Africa to the Arctic Circle. We are one of the world's leading companies in gas scrubbing. OASE® convinces with its simplicity and it is good to be planned.

To mitigate climate change, the US National Carbon Capture Center has established a project for CO2 capture. For its realization, the carbon fired Electric Generating Plant in Alabama provides realistic test conditions for the development partners BASF and Linde. The technology being tested integrates BASF's advanced OASE® gas treatment technologies. The results are very promising.

The purification process of natural gas to liquefied natural gas (LNG) takes place in onshore facilities located near the gas fields. Gas fields located offshore, on the other hand, were difficult and expensive to reach. So why not move the LNG plants there? The OASE® gas treatment team further developed its successful gas treatment technology to install it on a ship along with a liquefaction plant. The keyword of the future technology is "Floating LNG"!
With its OASE® Excellence Center Middle East in Abu Dhabi, the center of the oil and gas industry in the Middle East, BASF provides a reliable day-to-day technical and commercial service for its local customers related to gas treatment.
BASF collaborates with JGC Corporation on Japan's first large scale CO2 capture and storage demonstration project in the port of Tomakomai. The plant combines the engineering expertise of JGC with the state-of-the-art OASE® gas treatment technology of BASF.
OASE® sulfexx™ for selective sulfur removal
OASE® sulfexx™ is a highly energy efficient gas treating technology jointly developed by BASF and ExxonMobil, which helps refiners and gas processors to meet their sulfur removal targets while reducing carbon footprint. The new technology, featuring a new proprietary amine, selectively removes hydrogen sulfide from gas streams and is applicable to acid gas removal, acid gas enrichment and Claus tail gas treating units. OASE® sulfexx provides a competitive advantage by increasing plant capacity and lowering investment and production costs.
OASE® connect - How we support our customers in real time
The new OASE® connect platform is the perfect tool to help you when designing your plant. Our new platform is the perfect solution for engineering partners and technical service centers of operating companies in the project design phase. It also benefits end customers who are operating plants in remote locations. The new platform combines three essential OASE® tools: The Design & Simulation tool provides relevant information to optimize your plant operations. While the Sample Analytics database stores all your solvent analysis results at your fingertips. And finally, the comprehensive Knowledge Center offers in-depth information on gas treating technology and extensive e-learning materials.
BASF customers save time, resources and money with OASE® connect with the CAPE-OPEN interface, when they design or optimize a production plant, which includes an OASE® acid gas removal unit. The CAPE-OPEN interface allows to embed OASE® connect into a process modelling environment, where you simulate the entire plant configuration. All changes made to operating or design parameters are automatically reflected in all connected downstream engineering steps. No manual data transfer, no time losses when you change parameters – start boosting your engineering workflow!
    
How did BASF develop OASE® connect? We listened to customers who operated their plants in remote locations near gas fields and wanted BASF experts on site for advice and support. The OASE® connect platform provides customers with real-time information to help optimize their plant operations, even from many miles away.
Clean Gas from Waste: Biogas and Biofuel by BASF Verbio
The film looks at biogas and its role as a major energy mix resource. In about four minutes, the film describes the increasing importance of biogas and BASF's contribution to making its use more efficient. BASF customer Verbio AG, Germany's leading biofuel manufacturer headquartered in Leipzig, Saxony, serves as an example.

In 2021 we celebrated 50 years of industrial gas treatment at BASF and 10 years of our brand OASE®.
The success story of gas treatment at BASF started decades ago. In 1971, the chemical company began removing carbon dioxide (CO2) from syngas for the production of ammonia, a crucial starting material for the manufacturing of fertilizers. One by one, the company developed also technologies for natural gas, refinery offgas, flue gas and biogas. At the same time, BASF continually expanded its portfolio.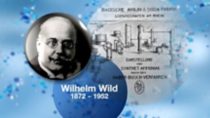 First experiments by BASF chemist Wilhelm Wild
(1872-1952) on water gas conversion in the context of ammonia synthesis.
OASE® is a registered trademark of BASF SE.